Staying in a Self Catered Chalet or Apartment in Morzine with Morgan Jupe
After a bit of a rocky year (to say the least), it's been wonderful to get back up the mountain, breath in that fresh alpine air and enjoy the magic of ski touring and other activities this winter. It's important that we keep our guests and staff as safe as possible and that's why we're focused on limiting contact as much as we can at the moment. This winter (or summer) you can still enjoy your holiday in the mountains whilst staying in one of our self catered chalets or apartments in Morzine.  
Be sure to take a look at our Covid Policy and Flexible Booking Terms so that you can book your next holiday with absolute confidence.
As you may already know, a ski holiday with Morgan Jupe is not your average ski holiday. We pride ourselves on ensuring our guests have an incomparable experience from the moment they book to the very end of the holiday and this year is no different.
Read on to visualise what its like to stay in one of our self catered chalets or apartments in Morzine this winter 2020/21…
self catered properties 
This winter all of our properties are available to book on a self-catered basis only (during the summer months too). You can build your holiday entirely around the needs of your group and we'll be here to support you along the way.
 As we said, it's important that we keep our guests as safe as possible whilst ensuring that you still get the most out of their ski holiday. Operating self-catered holidays means that you can limit any unnecessary contact with people outside of your ski group and know that your private space is entirely yours for the whole week.
 Book exclusive use of any of our properties and have the freedom to choose exactly how to spend each day.
On arrival in morzine 
A member of our resort team will meet you at the property on arrival to show you around one of our self catered chalets or apartments in Morzine and help you settle in. You'll find a welcome pack including a few basic essentials to help you get started and a few little treats as well! Don't worry, if you'd prefer a contactless check-in then that's no problem at all… We'll provide instructions before you arrive and we'll still be on hand to provide help and support where needed.
 We provide high quality bed linen, bath towels and miniature toiletries in all of our properties. If you're staying in a property with a hot tub then we provide bathrobes and slippers too.
Grocery shopping
 We offer a pre-arrival grocery shop service to your self catered chalet or apartment to save you the hassle of heading straight to the supermarket… just send us a list in advance and we'll have everything waiting at the property for you. We can also provide this service throughout the week so you don't need to worry about going to the shops during your stay.
wine list
As you may already know we have gone to great lengths in putting together an exciting and extensive wine list. We take a hands on approach to sourcing our wines and each year we travel around Europe to seek out the best, undiscovered wines on offer. You can pre-order from our list ahead of your arrival or place an order during your stay and we'll deliver to the property for you, free-of-charge.
covid measures
We're taking the current COVID-19 situation very seriously and following public health authorities' guidance to ensure our guests are as safe as possible and can comfortably enjoy their stay in one of our self catered chalets or apartments in Morzine. This means our properties will be sparkly clean after our team has been in and carried out our enhanced cleaning protocol between groups. Read more here…
mornings in the alps and doorstep deliveries 
Wake up early and catch first lifts or take it easy before a day on the slopes. There's no set time for breakfast and therefore no rush to get up. Although, the smell of freshly baked croissants wafting through the air might make the decision for you.
Just like your grocery shopping, we can organise a delivery from the local bakery for you each morning, straight to your self catered chalet or apartment in Morzine! There's nothing like a freshly baked French pastry to set you up for a day on the slopes.
ski hire
Prior to your arrival, ski/snowboard hire will have already been organised with our fantastic partners at All Mountain Rental, who will deliver everything you need once you're all settled and comfortable in your accommodation. Of course, new covid safety measures will be implemented this year to ensure everyone is happy and safe. Ski passes will also be waiting for you so that you can head straight out to the slopes and avoid having to queue up in the lift pass office.
ski school
If you're keen to make the most of your time on the slopes, our partners at New Generation or The Snow Institute offer lessons for anyone from complete beginners who are new to the slopes, to advanced skiers who would like to perfect their ski technique.
Is snowboarding more your thing? We can hook you up with one of the best instructors on the mountain through MINT Snowboarding. For those advanced skiers or snowboarders who would love nothing more than to take advantage of a perfect powder day then Peak Snow Sports is the one for you!
LUNCH ON THE MOUNTAIN 
After you've enjoyed a morning of exploring the mountain and soaking up the alpine views, we bet you've worked up an appetite!
Should you be on the Morzine-Les Gets side of the mountain, we recommend you enjoy a delicious lunch at Le Vaffieu where you can taste a unique menu, who offer a great range of dishes including our personal favourite… Parmentier de Canard Confit (essentially a shepherd's pie made with confit duck)!
 If you're on the Avoriaz side then head on over to Les Fontaines Blanches, which is iconic for its tasty food, impeccable service and fantastic location right in the heart of the ski-in village.
 We have lots of other restaurant recommendations and we're more than happy to reserve a table for each day of your holiday to make sure you're always guaranteed a seat.
TREAT YOURSELF
When you return from the slopes, why not enjoy a bit of pampering? Receive a massage from Mobile Mountain Massage or a beauty treatment from the lovely Kerri Mcauley. If it's more of a sports massage you're looking for then Mountain Rehab are your go to girls as they specialise in physio.
We can organise any of these local services in advance. Whether you're staying in one of our self catered chalets or apartments in Morzine, we can always arrange for them to come to you so that you don't have to move a muscle! Again, covid measures will be implemented for everyone's safety so you also don't need to worry about a thing.
 If massages or beauty treatments aren't quite your thing then Georgie Kennington is opening up a brand new pilates studio in the new "hive" building or you could also visit the yoga studio in the centre of town.
As the evening rolls in
As the afternoon ends and the evening rolls in, be sure to have a dip in the hot tub if you're staying in one of our chalets. Cosy up on the sofa by the roaring fire with a well-deserved G&T or a beer before you hit the town. 
Morzine has a vast array of restaurants and bars that you definitely don't want to miss out on. We'll be happy to book a table for you in advance to make sure you get a space, as they may be limited this season to keep everyone safe. We hear there will also be a number of seated events taking place in town this winter. Keep your eyes peeled for updates on our social channels!
Or perhaps you'd prefer a relaxed evening in the chalet or apartment… There are loads of great local takeaway options to choose from, as well as meal delivery services that are super convenient and of course, very tasty. If you want to treat yourselves then why not indulge in a fine dining experience with one of our private chefs? Or of course you can cook up a storm yourselves if you fancy making use of the kitchen!
Ask us for more information and we'll help you organise these additional services in advance of your arrival.
Hopefully this blog helped you to visualise what your ski holiday with us will be like this winter 2020/21. Haven't booked yet? Take a look at our Covid Policy and Flexible Booking Terms so that you can book your stay in one of our self catered chalets or apartments in Morzine with absolute confidence.
Do you have any further questions?
Get in touch with our sales director Jess today on +44 7739 692 908.
Contact Jess by phone, Whatsapp or email and she'll be happy to help organise your next alpine holiday.
Other Blogs That Might Interest You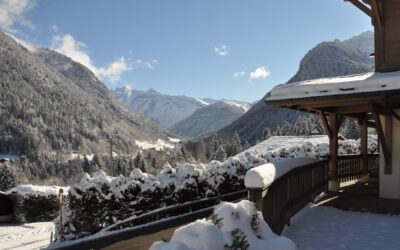 The year of 2020 has brought uncertainty and unease to people's lives all around the world. We know how difficult it has become to make plans for the future but we also know how important it is to have something to look forward to. We have taken great care and...
Stay up to date with our latest news on Facebook, Twitter and Instagram.