The best cold weather gear for skiing this winter
Choosing what to pack for a ski holiday can be confusing. Whether you're a beginner or an experienced skier, we've compiled THE list of all you might need for your next trip to the slopes, in conjunction with top skiwear website Simply Hike.
Keep warm underneath
Thermals are a necessity if you want to remain cosy while you ski. You'll be outdoors for the majority of your day and even though the sun might be shining, the temperature will still be very low.
Shop around for thermals that are right for you, opt for wool if temperature is your concern or nylon if you think you'll be working up a sweat.
Layer Up
Dressing to ski all day is all about keeping your body as well insulated as possible. Multiple layers can help keep you warm without feeling constricted which is great particularly if you have an active day planned.
You can wear your mid layer on its own whilst you're relaxing during that all important après ski session, or keep it on underneath your jacket during the day's activities. Love the look? Don't save it just for skiing – wear it as a normal layer when you are in the UK too!
Baby, it's cold outside…
It goes without saying that outer layers are essential for any ski holiday. No-one feels happy when they are cold and/or wet. Your ski jacket should keep you are warm without becoming sweaty, allow you to move freely and regulate your body temperature, all
the while increasing your visibility in the snow by being a bright colour. A tall task, but Simply Hike have a great range of jackets, pants and salopettes to choose from…
Mix and Match
When the snow starts falling, you'll be glad you brought a knitted beanie or a fleece hat to protect yourself from the elements. Don't forget to bring sunglasses too for when you're not wearing your goggles… we love the Manbi mirrored sunglasses, a stylish choice for any day skiing on sunny slopes.
And don't forget thick ski socks or you'll not only be cold, but you'll be bandaging up your sore feet, which is definitely no fun on a ski holiday – pack enough to get you through your entire stay and you'll have no problems.
Accessories are a great way to dress up your skiwear, so bring a few different kinds and alternate throughout your stay.
Safety First
As fun as skiing is, it can be dangerous if you've not packed the right protective gear. Remember to bring the following items to help you and your family have a safe and more enjoyable holiday…
Helmet
Goggles
Protection guards
Gloves
Sunscreen and sunglasses
Helmets really aren't an option when it comes to your safety on the mountains. A helmet offers a higher level protection against bumps and falls… it really is better to be safe than sorry. It's also important that your vision is uninhibited when you're skiing, so don't forget to pack your goggles to remain protected on your ski trip.
To guard against injury, you may also want to pack protection guards. They can be used on your knees, wrists and elbows in case you fall. If this is your first time skiing or you want to try a more difficult course, these will help you enjoy yourself while knowing you're safe.
Gloves are also important, not only for warmth but also to prevent your hands from getting sore from holding your ski poles – look for a great all-weather glove to give complete protection from the elements while out on the slopes.
And finally…
Who needs sunscreen in the snow? Well, actually you do!!!
Although it's cold on the slopes, it can also be very sunny. Packing sun protection, including an SPF lip balm, will keep you from getting caught out and having a red face (in more ways than one) during your holiday. And just in case you do burn, it might be wise to pack some after sun too!
We recommend the Manbi Sun Cream Travel Pack which includes a travel size combi-tube of SPF50+ sun cream and SPF15 lip balm, plus products to rehydrate your skin in the shower après ski.
So that's your ski gear sorted… now you just need to book your accommodation! Head over to our chalets page to check out all the options available with Morgan Jupe.
Email jess@morganjupe.co.uk if you're looking for some advice.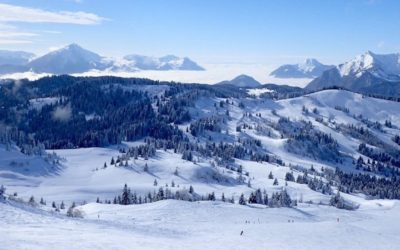 We understand that organising a group holiday isn't the easiest task at the best of times. Adding the activity of skiing (and all the extras that come with it) to the equation certainly means there's a lot to think about. The responsibility of being "group leader" can...
Stay up to date with our latest news on Facebook, Twitter and Instagram.