Frogs Rafting near Morzine
Along with summer comes many fun and exciting activities in the Alps. One of our recent favourites was a trip down the valley to try white-water rafting (near Morzine). We absolutely loved it and would definitely recommend it to anyone visiting Morzine and looking for a fun summer activity. Here's how the day went … 
booking and ACCESSING rafting near morzine
From start to finish, arranging the excursion was effortless and Nat from Frogs Rafting near Morzine couldn't have done enough to help organise such a perfect morning. We emailed her some time in advance so that we could pick the exact date and time that worked for us.
Getting to Frogs Rafting couldn't have been more simple. From Morzine, it was a 30 minute drive along one road through Saint Jean d'Aulps, down the mountains towards Thonon and there were lots of beautiful views along the way.
There are 3 different trips to choose from. The Classic Trip is generally for younger people with a minimum age of 8 years old. The 'Inbetween Trip' has a minimum age of 12 and is the one we chose, for those who are more confident than a 'Classic Trip' but not quite ready for the 'Pro'. Lastly, there is the option of 'Pro' with a minimum age of 16 for all those daredevils out there.
 GROUP SIZES
We were a group of 8 which was ideal to split into 2 rafts, however, you could actually have a maximum of 8 in each. Both rafts had a qualified instructor who made us feel completely safe and the experience both fun and exciting.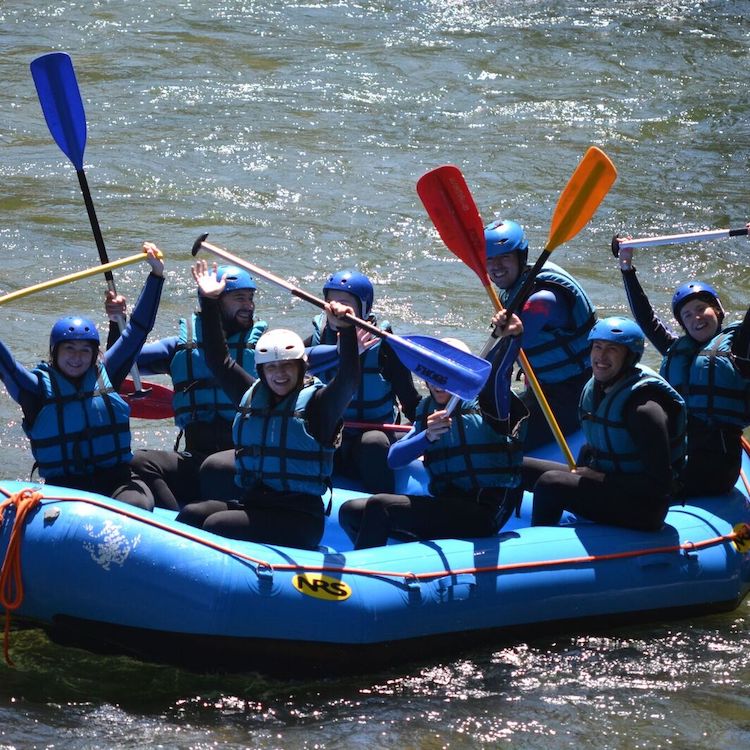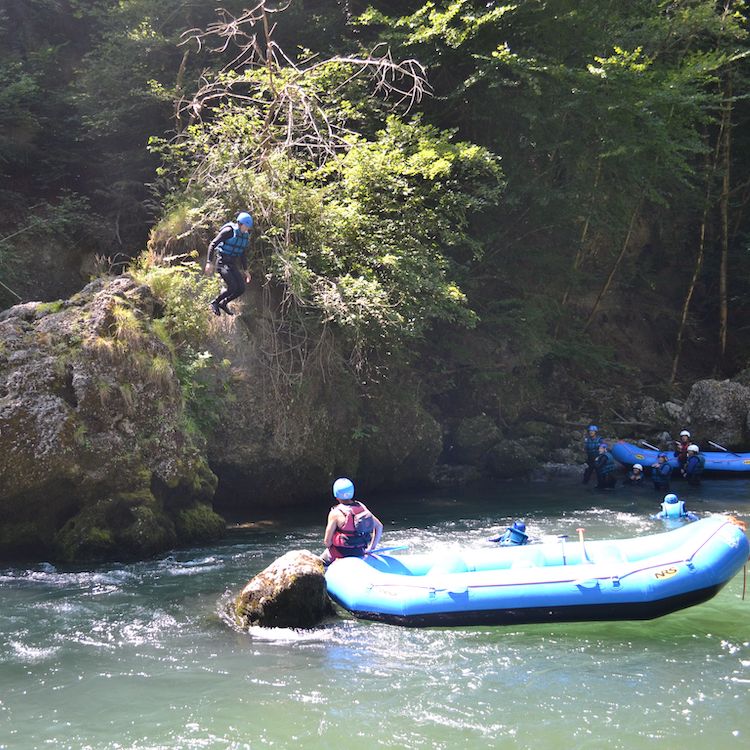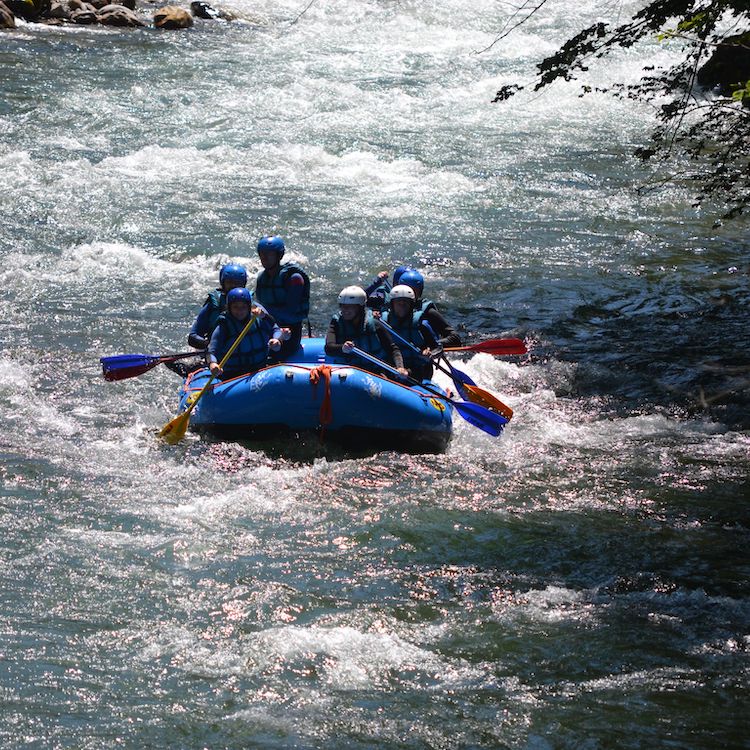 GETTING OUR GEAR ON
Upon arrival we were given wet suits, a life jacket and sea shoes. There was a changing room around the back and a toilet for visitors to use. You can safely leave all of your clothes and valuables in the lockers provided there.
Next, we were driven to the other side of the river in a van where we would start our rafting adventure!
JUMPING OFF BIG ROCKS
At the beginning of the rafting trip, we were given the opportunity to jump off different size rocks into the river whilst the cameraman captured some fantastic shots! Please note this is not compulsory and you only have to participate in what you feel comfortable with.
We were told that the water is always high at the 'Dranse' due to the dam being opened at the right times. It's definitely a good idea to try and go once there has been some rain but you can go rafting either way. Do you have what it takes to plunge into the river?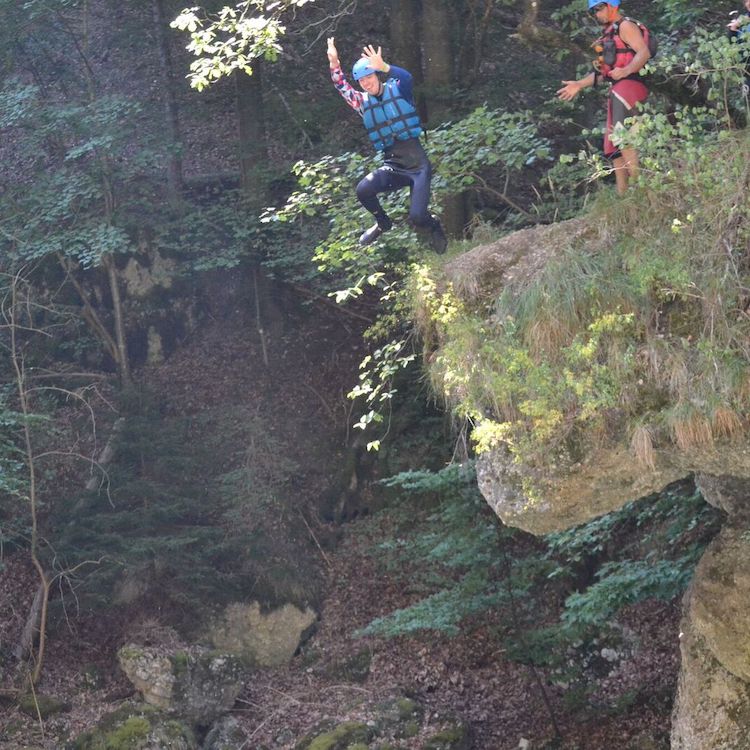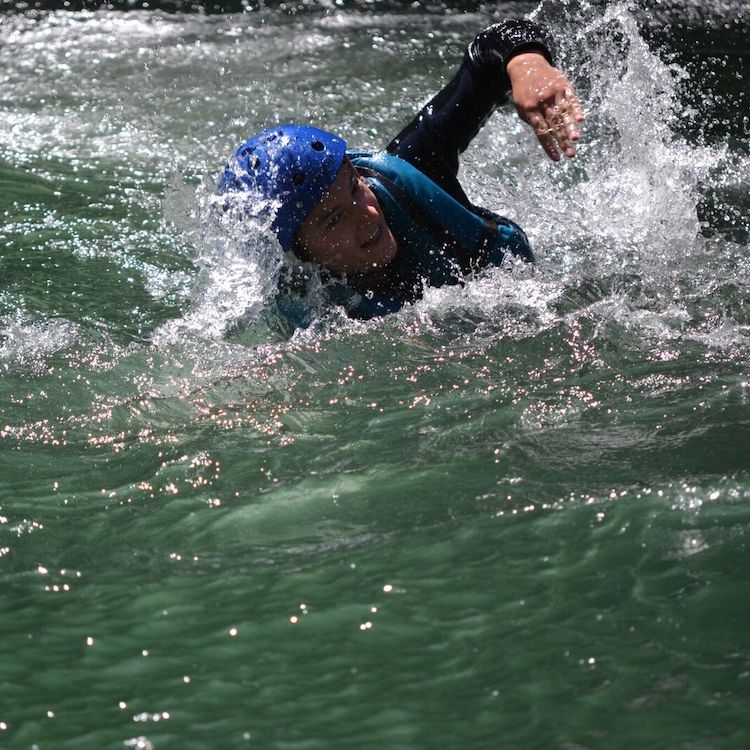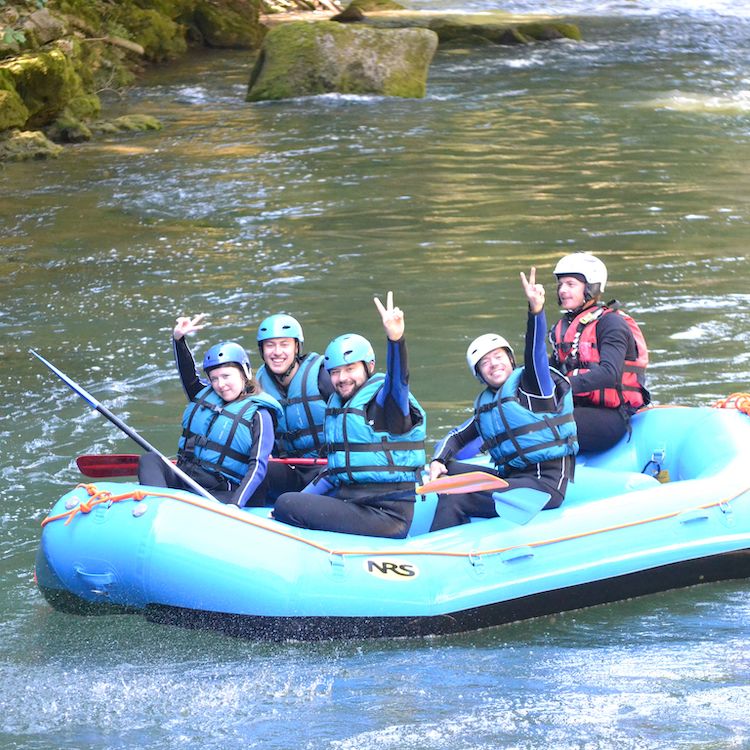 TEAM WORK
Next, it was time to demonstrate our rafting skills. Both rafts raced down the river with the obstacle of avoiding rocks as the instructors indicated when and which direction we should paddle.
Once we had the hang of it and moved on to the slower moving part of the river, the instructors swapped onto one boat and we all took the other. We nominated a team captain to ensure we were all paddling the correct way and we successfully made it to the end of the river!
The day was full of giggles from start to finish, but more importantly we all felt a sense of teamwork which certainly makes it the perfect activity for corporate team building events.
Frogs Rafting don't just offer the opportunity to go rafting along the river, but more activities too. Next time we are looking forward to trying hydrospeeding and canyoning!
We chose Frogs Rafting as we knew they were a reputable company close to Morzine. Frogs was founded by Jeremy, who has guided on the rivers; Giffre, Dranses, Isere and Dora Baltéa for the past 9 years and decided to use his experience to establish Frogs Rafting. Nat is the co-founder of the company and will be happy to answer your questions and organise your booking for the ultimate experience on the river.
Do you have any further questions?
Get in touch with our sales director Jess today on +44 7739 692 908.
Contact Jess by phone, Whatsapp or email and she'll be happy to help organise your next alpine holiday.
Other Blogs That Might Interest You
Winter isn't the only season we love in the mountains. Spending summer in Morzine is really quite a special experience and we'd LOVE to share it with you this year! Of course, we're not exactly sure how travel is going to look for the coming summer, but not to worry!...
Stay up to date with our latest news on Facebook, Twitter and Instagram.