Great Reasons To Ski in Morzine in January
As January creeps in, we're sure you're all familiar with that chilling feeling when we realise the New Year's festivities are over and Christmas is starting to feel like a distant memory. But don't worry, the fun doesn't need to be over!
February and March may be the most popular months of the season amongst holiday makers but January is most definitely our favourite month to ski and we'd love it if you joined us! We know it can be a tricky time of year to take holidays from work but if you can make it happen we promise it will be worthwhile.
Read on to find out why you should ski in Morzine in January…
The conditions are great
A ski holiday with Morgan Jupe can only be improved with great snow! January is renowned for lots of snow and you know what that means… powder powder powder! Take a look at Morzine's snow record and see for yourself.
And not only that, skiing in Morzine in January, means you can experience the days starting to get longer and the sun gets higher in the sky. As a result, the slopes see more hours of sunshine than in December. Of course, we need to bear in mind that the temperatures can still be a bit chilly so be sure to wrap up warm and enjoy the wonderful skiing conditions.
The slopes are fairly quiet
 Did you know the first week of January is referred to as the snow lovers secret here in Morzine? That time period between school holidays is a haven for you snowy mountain dwellers as you'll get the best of the slopes and endure next to no queues. Sounds too good to be true, right? We promise it's not! 
THERE'S PLENTY GOING ON IN TOWN
Quiet conditions on the mountain doesn't mean you'll be experiencing a quiet night in town. As January falls outside of the school holidays, there are fewer families and more adult groups. That means that while you won't struggle to get a table at a restaurant, you can still be sure to enjoy a vast variety of parties and live music. Because who doesn't love a bit of apres ski?!
As well as the many bars and restaurants to take advantage of when you ski in Morzine in January, there are also a variety of events that just might tickle your fancy. If you like fireworks then be sure to visit the bottom of the Pleney slope every Tuesday at around 18:00. There are also welcome drinks at the Tourist Office every Monday from 16:30 to 18:30 where you can try the famous Green Chaud, a combination of hot chocolate and Chartreuse liqueur, as well as local cheese.
TAKE A LOOK AT OUR AVAILABILITY FOR JANUARY
Planning your ski holiday in Morzine in January now means you've got first pick of our wonderful properties. Whether you're a small group or you're bringing the whole gang, we've got you covered. Take a look at your chalets and apartments.
Other Blogs That Might Interest You…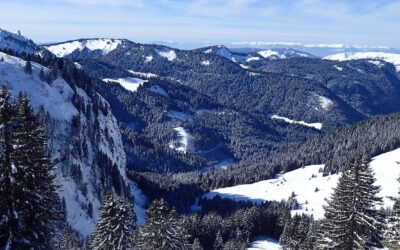 Every year we look forward to spring skiing! During March and April, Morzine and the surrounding towns of the Portes du Soleil transform from our regular ski resorts into a venue of crazy competitions, live music and a whole lot of fun! It may be the last two months...
Stay up to date with our latest news on Facebook, Twitter and Instagram.